WordPress vs Groove Pages?
Just when I finally got comfortable with WordPress and did not need help to edit pages and create an entire website (this one included) and found some great themes, Groove Pages comes along!
Of course, I checked Groove Pages as I have known Mike Filsaime from a while page. Of course, I signed-up for the FREE VERSION OF GROOVE PAGES. And, of course, I signed for his one fee lifetime access to 12 products including sales funnels builder, email marketing service, webminar service and shopping cart. 
Right now, I will continue to use wordpress to build this website and my others because the Groove company is in Beta but I am glad I locked down the one time fee as they will soon realize that people will be fighting to get in and they can charge a high monthly fee for such a complete product.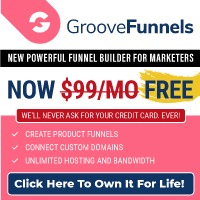 If you go to the square about email marketing (which I am honestly not a big fan of, as a customer and as a marketer) you will read that I was appalled when I saw that all the email marketing services had jacked their prices and now have a ruler to goes to insane monthly fees according to the size of your list.
At least, with Groove mail, I will have unlimited lifetime subscribers. 
I doubt that my list will grow to millions but who knows? right?
Anyway, as you will see I love wordpress and so does 35% of the people who built websites but they are saying that the Groove pages and funnels are SEO optimized and will not get hacked as often as the WordPress sites. I did have one wordpress website hacked but that was not a big problem. 
Check out Groove Pages and Groove Sell as they are FREE now.