Webinar: are you talking to yourself?
Webminar: are you talking to yourself?
Webminars are very popular but if you are just starting in the internet marketing business, you might not a list big enough to make it worth your effort.
I know of a mentor that tells her students to do webinars out of the blue. She tells them that most probably for the first webinar nobody will show up. Then, there might be two people for the second webinar and that over time, they will build their list within a couple of years and get going!
I don't know about you but this seems like a very foolish way to get no results. You also have to take into account that most webinar services cost money. We only have a few hours per day (yeah forget about Tim Ferriss Four Hour Work Week that is only valid for him and a couple of other marketers who worked 70 hours a week for years before becoming an overnight success.
Which webinar service to choose?
Gotowebminar used to be very affordable but now their plan starts at 104$…MONTHLY!
Just like email marketing services that jacked their prices to insane amounts, webinar (even though their technology has not changed that much, are asking for insane amount of money to use their services.
There is a small window of opportunity with GrooveDigital who is offering webminar services (to come) and Page builder, and email marketing for a one time fee- locked in for life!
You can check it out here: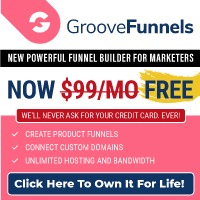 Whatever you do, never forget to record your webinar as this is a great product and it can be offered as a replay as many times as you want. I know of marketers who made millions of dollars using the same webinars over and over while they were sleeping tightly in their beds!