Why you should jump on the Udemy 48 hours flash sale
Udemy

is having another one of its 48 hours flash sales from February 26th to the 28th 2021!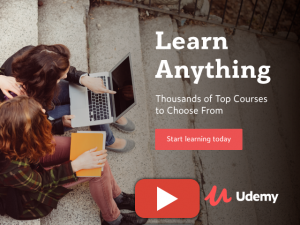 Udemy is a huge online teaching platform. They are having one of their 48 hours flash sales from February 26th to the 28th 2021 and here are the top 11 reasons you should jump on this Udemy sale.
As of February 2021, the platform has more than 40 million students, 155,000 courses and 70,000 instructors teaching courses in over 65 languages. There have been over 480 million course enrollments.
Udemy has a great rating system where people are not afraid to rate the course like they see it. Students in College can also rate their teachers but their evaluation could be biased by the fact that they would be afraid for their grades if they gave a bad rating.
During those flash sales, you can get access to fantastic courses for dirt cheap prices starting as low as 10.00$.
The Udemy platform is great to use and you do not need any special skills to use it.
Once you purchase a course at such a discounted price, you have access to it for life.
You can learn invaluable lessons on how interesting courses are set-up in case you want to create your own online courses for your digital business later.
Although it is true that most information in any course can be found for free on the web, a well laid-out course will save you invaluable time and money by providing the exact info that you need.
By focusing on your course, you will avoid distractions and getting sidetracked if you were on such a tempting platform as YouTube with all its hilarious videos of cats.
Udemy has a great user interface that allows you to access the courses you bought easily. You will save a large amount of time compared to trying to find back the one video that you need on YouTube.
We are not here to give any accounting advice but most courses bought for your business venture could be a tax deduction (check with your accountant).
For all these reasons, and many more, you should jump on the Udemy Flash sale!