How to use tags to increase your video ranking on YouTube
Tags for video ranking are simply keywords that YouTube allows you to attach to your video
By choosing the right keywords for your Video title, description and tags, you will insure that your video gets the best ranking it can by YouTube's search engine.
In order to successfully choose the right keywords for your video, TubeBuddy will be of tremendous help. The best part is that it is FREE!
This very easy to install simple Chrome browser app, will give you the keys to the kingdom when it comes to finding the right keywords for your video.
Actually, you should do your keywords and tags research with TubeBuddy before you create your video.
By researching the keywords used by the top ranking videos on the subject that interests you, you will be able to create a list at the simple push of a button with TubeBuddy. You can repeat the proess for the top 5 or 10 rankings videos and create an even bigger list of useful keywords that you will use to outline your video.
You will also use those high ranking keywords to create your video description, tags and meta. Do not forget that only the first two lines of your video description will appear in the search engines so make sure it contains your important keywords. Your description should be readable though and not be a list of keywords repeated as this is against YouTube's terms and can get you into trouble or give your video a bad ranking.
It is said that YouTube has the technology to read the words on the screen so either adding titles or using PowerPoint slides are a great idea to showcase your keywords again.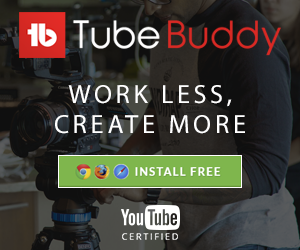 Since YouTube is owned by Google, remember that a great ranking on YouTube might trigger a first page ranking on a Google search page result! The algorithms of the two are similar when it comes to keywords.
Of course, YouTube has its own algorithm when it comes to views, duration of views, likes, interactions, etc.
This is the reason you will hear so often "click the like button, subscribe and comment" in YouTube videos.
When considering tags for your videos it pays a lot to use synonyms and long tail keywords.
You can also revisit your old videos that are not performing well and use TubeBuddy to help you rank better by correcting what is not good and using higher ranking keywords.