How to do SEO research to rank your video on YouTube
SEO research is essential to rank your video on YouTube. Luckily, there are tools that can help you rank your videos well on YouTube such as TubeBuddy.
TubeBuddy has a free and a paid version. The FREE version of TubeBuddy will allow you to rank your video well using SEO research.
There are many ways to use TubeBuddy to help you rank your videos on YouTube.
You have to realize that a video ranking well on YouTube can also secure you a place on a Google's first page results as Google owns YouTube and favors videos in their search results.
Here is a step-by-step way to use TubeBuddy to improve your SEO placement with your video.
Step #1. Download the TubeBuddy app for Chrome extension for free.
Step #2 Open YouTube. You will see the TubeBuddy logo. Click on the Keyword Explorer function.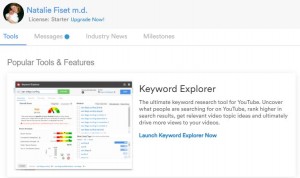 Step#3. Type in any keyword you would be interested in for your next video creation. TubeBuddy will give you in a second if it is a good keyword to rank for by analyzing the competition and the search volume for that given keyword. Keep in mind that a search may contain more than one keyword. Actually, it will be rare that one keyword searches will not be competitive. You can do as many searches as you want.
Step#4. Now that you know what keywords you want to rank for, type them in the YouTube search bar. YouTube will show you who are your direct competitors for your keywords.
Step#5 Click on the first video. Notice what thumbnail they have as you may want to use a similar format. Many successful thumbnails have text in them and the title of the video. Next to video, you will see the analysis of the video by TubeBuddy. Look at all the keywords they are using. You can copy those keywords and make a list that you will improve at the click of a button.
Step#6 Click on the next 5 or 10 videos in your search result and again note the title, thumbnails and tags they are using. Add the tags to your list and remove the tags that are not relevant for you.
Step #7 You are now ready to create your video using the SEO optimized title and tags that you have found. Be yourself and do not try to copy the videos you saw. Do not forget to fill your description with special attention to the first two lines which are the only ones visible in the search engines' results. Your description should contain your main keywords, read well and compelling for people to click on it.
Step #8 You can embed your high ranking video in your landing page when creating your FREE FUNNEL with GROOVEFUNNELS.