How to make money with a free item funnel
How to make money with a free product funnel
You can learn a lot from getting the FREE book called Traffic Secrets by Russell Brunson. You will get a lot of value from the book itself as it is well written and of high quality. Russell, the founder of the multi-million dollar generating company Clickfunnels has invested a lot to produce this high-quality hardcover and beautifully illustrated book. Beyond being a good quality book, it offers fantastic inside on how to make money in digital marketing.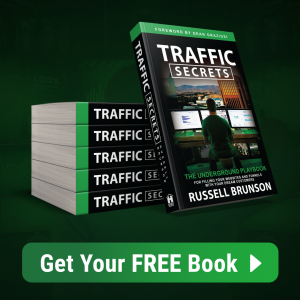 When you get your free Traffic Secrets book, go through the process by taking your time and taking notes how the funnel is built. You should actually get all of three Russell's free book offer (just pay shipping) and notice the details he put into all those funnels. Each book has its own color code. Russell has tested everything profoundly and he is proof that you can make millions with a free book offer! Study all the funnel and take notes, plenty of notes.
His offer is very successful because he is sacrificing extreme value by giving away his book and losing money upfront (he said it). The upsells and bump orders are what made him a multi-millionaire. His funnels are so well-designed that starting from a free book, his faithful followers end-up paying him tens of thousands of dollars for his private coaching programs and mentorship.
If you are interested in building your free book funnel but do not want to pay a monthly fee with Clickfunnels, you can open a FREE account at Groovefunnels. This is not a free trial, you really get a free limited account. The catch is that you will see all the perks of the paying one-time fee membership that you might be tempted to take the limited offer!