How reading Dotcom Secrets can make you a millionaire
The FREE book Dotcom Secrets can make you a millionaire
Russell Brunson, the man who has been making multi-million dollars profits has revealed that one of his funnels that is making him millions is his FREE book funnel called Dotcom Secrets.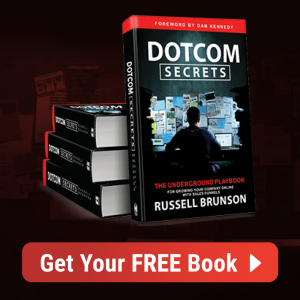 If you do not own DotCom Secrets, you need to get it now. The best info you will get from the free (you only pay shipping) book will be twofold.
First, this hardcover book is revealing a lot of digital marketing secrets that Russell generously shares with you.
The second and most important information you will get is by paying especially great attention to his funnel. You have to understand how he makes money by giving for FREE his DotCom Secrets books.
Pay special attention to the simple but highly efficient pages that you will see as you go through his funnel. Notice that he uses videos very efficiently. He is so likable that you instantly feel like you know, like and trust him.
Resist the urge to unsubscribe from his list and analyze all his e-mails as extremely well-converting marketing material.
The only downfall with Clickfunnel is that you have to pay a monthly fee. GrooveFunnels offers for FREE a basic funnel builder if you sign-up now.