How to copy a multi-million dollar funnel
How to create your profitable funnel
Many digital marketers failed at creating profitable funnels. Often, it is not from a lack of studying and buying all those expensive programs promising to make a fortune online. The problem with most of these programs is that they only make a couple of persons rich: the author of the program and their super-star affiliates with a big list. The reason is simple: their product is not good and does not really give you all the info you need to create a profitable funnel.
The best hack to create your first profitable funnel is to copy the funnels that have made millions of dollars.
Russel Brunson has made many millions with Clickfunnels . Three of his most profitable funnels are his FREE book which are actually great reads for digital marketers.
A great way to study for free (and get a fantastic book in the process for free- you only pay shipping) is to buy his book called traffic secrets. Click on the image below to get Expert Secrets.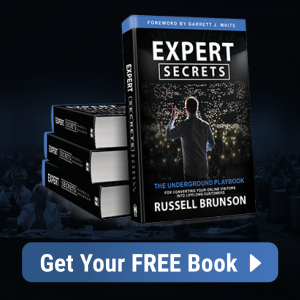 When you go through the purchase process of Traffic Secrets, pay special attention to the pages you are seeing: opt-in, salespage and thank you page. Notice also how he offers upsells and order bumps. His funnel is beautifully executed. Notice that he uses videos often and he is great at it.
You will be offered to get a FREE Clickfunnel trial for 14 days.
If you find this price too high for you, you can always get GrooveFunnels for a one-time fee.