How to host your online course on WordPress for free
Hosting your online courses on WordPress to make money online is a possibility for digital marketers
Online courses is a growing industry and digital marketers, even Newbies' can make money by selling their courses online. You can also decide to offer a free mini-course and build your reputation and your list by doing so.
There are many platforms to host your online courses but they charge a fee. If you want a turn-key solution consider these platforms to host your online courses:
These platforms have the advantage of hosting your courses, some for free and have their own traffic and reputation. You can also consider getting the best of both worlds by hosting your courses on these platforms and on your WordPress website. Make sure you check the terms of services of all these platforms. Udemy for instance, at the time of writing allows you to post your courses on their platform and on your site as long as you are not participating on their Udemy for business program.
Hosting your online courses on your WordPress site has many advantages and is not as complicated as you might think. As for any other WordPress tasks there is a huge community that can help you and if you get stuck on a certain task, most probably it can be answered by a simple "how to" query on the search engines. The other strong argument is that you keep control of your course and setting it up is free.
Are you ready to build your online course on WordPress? Let's go!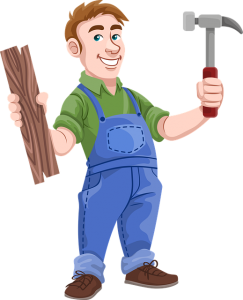 Hopefully, you have been playing The Big Internet Marketing Game and have WordPress installed on a hosting service and have your own domain. If so you already have three of the 6 steps done!
Here are the 12 steps to host your online course on your WordPress site:
Get hosting for your WordPress site at SiteGround, HostPapa, Hostinger

,

Install WordPress on your site. It can be done through your C-Panel (see The Big Internet Marketing Game home page for links) or you can ask your hosting company. They often do it for free as it takes one minute literally.
You need to install a LMS, a learning management system, on your WordPress site. You can get such learning management system by going into your dashboard, clicking on Plugins and clicking ad new. We recommend LearnPress as it is free. There are many other LMS plugins but many are not free.
You will need videos hosting for the videos on your course. You cannot really host your videos directly on your WordPress site as it would slow it down considerably. You can host your videos on YouTube making sure you select the "uncategorized" category instead of public or private as this will ensure  that people cannot see your videos, at the time of writing.  You can choose to host your videos on such platforms as Vimeo but they cost money. Honestly, you could chose to have a course without videos but it would not be very popular.
You will need to link a payment processor so you can get paid if you are offering a paid course. You most probably have a Paypal account and it can be linked easily to your course payment processor.
Write an outline of your course with modules and lessons, bonuses, quizzes, etc
Create your content and overdeliver. You can easily write checklists, e-book. etc that will make your costumers very happy.
Upload your course material such as video embeds, PDF, quizzes, etc and test test and test some more to make sure everything is working properly.
When you feel that all is perfect, ask your friends to test for free or members of your Facebook groups. People love to give their opinion.
If you feel the need to, you might consider adding a membership plugin like Membership Pro which is free to control what part of your course people see. For instance, you might offer part of your course for free in order to create an interest so people sign-up for the full paying version.
Have fun creating and uploading your course. Make a back-up file of your course and upload the back-up on a safe place. You might never need it but if you do, you will be so glad you made a back-up!