GrooveFunnels Pros and Cons
GrooveFunnels is an all-in-one digital platform offering funnel building, e-mail service, shopping cart, blogging etc
THE PROS OF GROOVEFUNNELS:
GrooveFunnels has a huge community of users on Facebook helping each other.
GrooveFunnels was founded by Mike Filsaime and his associates after he left Kartra. Mike is an experienced marketer who has successfully made millions of dollars in digital marketing.
GrooveFunnels offers a generous commission program to all of its users of 40% for paid members and 20% for its free members. GrooveFunnels offers all the material its affiliates need to promote the platform and make money.
GrooveFunnels offers a free membership for digital marketers who are newbies and want tot test it where you can create three free funnels or websites. They also offer free cloud hosting so basically you can have a digital business for zero cost.
GrooveFunnels when fully developed will save digital marketers tens of thousands of dollars in monthly fees for other services like e-mail marketing or other funnel builders like ClickFunnels.
GrooveFunnels has a current offer of a one-time payment for a lifetime access to the platform saving you a lot of money.
There are members in the Groove Community who started sharing great "How to" videos or replying step-by-step ways to do things in Groove
Some of the Groove members have mastered the funnel building templates and have created gorgeous websites which is a preview of what can be achieved on the platform
GrooveFunnels' CEO Mike Filsaime is a great marketer and some features in the program are marketing oriented in a way that you cannot find on any other platform.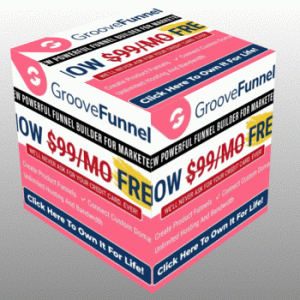 THE CONS OF GROOVEFUNNELS
The platform is in Beta which in a way is good because you have the low price one-time payment instead of the costly monthly fees for the services separately
The platform development has some bugs and delays. You can easily create funnels and websites once you overcome those bugs but it might require some time.
The GrooveMail service which is a big part of GrooveFunnels has been pushed back a couple of times thus causing irritation among users.
The help desk is not that good at answering questions. Luckily this is compensated by the community who is fast at helping each other.
The entire GrooveDigital platform is an ambitious project that seems to be at times scattered.
Since the platform is new, you cannot always do a simple "how to "search and get a simple answer like you would get if you encountered a problem with WordPress.
In summary, GROOVEFUNNELS is an interesting alternative if you do not want to bother with WordPress, hosting your site, etc and save money on the long run for other services. You can always start with the free basic version of GROOVEFUNNELS.