Groove Funnels and Groove Pages review
I just answered the question "what is your honest review of Kartra? Is it better than Click Funnels?
Hi,
I have not used Kartra but I know that Mike Filsaime the co-founder had creative differences with his partners and is now launching his own Funnel platform called GrooveDigital which will offer pretty much everything an internet marketer will even need: webinar platform, email service (25K subscribers for free), funnel and webpages building and free cloud hosting, shopping cart and merchant account, etc!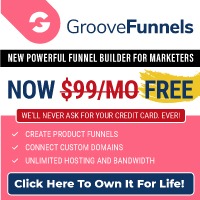 This project is in Beta and they are offering a one-time fee for lifetime access to everything (and the Kitchen sink) for the equivalent of a couple of month's payment of the other funnel service providers. I jumped on the occasion. You can even sign-up for a free access to the basic funnel service if you want to check them out first here: GrooveFunnels — The #1 Funnel Builder Platform and more! (yes this is my affiliate link and yes I would get a commission when people sign-up).
They say the one0time fee offer will go down in July 2020 and they will go for a monthly fee which will still be cheaper than the other big funnel services.
Personally, I do not see why so many people sign-up for a funnel service at 300$ per month when they are selling peanuts (that is the reason the drop off rate is so high). Actually, I kind of see that the funnel providers have one great quality: they are excellent marketers!
I hope this helps,
Nathalie