Affordable Funnel builders
Affordable Funnel builders
I just answered this question on Quora:
What are some affordable marketing automation platforms? Ideally, I'd like something under 800$ per month with features like lead scoring, tracking throughout my conversion funnel, SEO analytics and CRM integration?
Hi,
As an internet marketer and a website owner, I find that the usual Funnel services with their huge monthly fees are highly exaggerated not to mention any Funnel services. If you are using WordPress, there are some basic plug-ins that can start building your list by having a simple opt-in form on your site. Most people will offer a freebie because saying give me your email address to get my newsletter is pretty much dead.
Funnels are sometimes too complicated (upsells, down sales, sidesales, etc and they end-up being a maze. Often, I found the flaw in a funnel and could pay half price if I refused the offer that was presented to me, too bad for the marketer who had a basic funnel set-up with obvious pathways.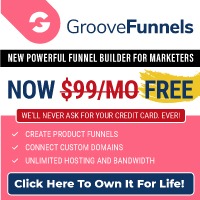 Honestly, if you set-up too complicated funnels, you will lose your customer along your maze.
Mike Filsaime who is an experienced marketer and has launched so many successful products (pay dotcom, Karta, Butterfly marketing, etc) has now an extremely ambitious project called GrooveDigital which includes everything you could ever need like Funnel building, email marketing, webinar, shopping cart, etc. It will be on a monthly rate but until July 2020, he is offering a one time payment lifetime access to the entire platform (with the kitchen sink) for a dirt-cheap price. You can look it up here: GrooveFunnels — The #1 Funnel Builder Platform and more! (yes this is my affiliate link and yes I could get a commission).
The end of my answer on the next post,
Nathalie