Free funnel builder and free hosting for women
Free funnel builder and free hosting for women
I just finished creating the second page of my funnel with Groovefunnels. It took me about 2 hours and cost me nothing. They even offer free cloud hosting. They offer free templates that you can modify to suit your needs.
I like the design of this funnel that I created especially for women.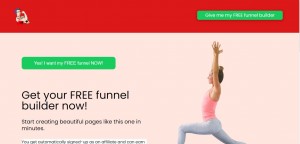 Click on this link to get your free funnel builder for women. This is not free to register scam. This is really free. Their angle is that by giving you a free version you will be tempted to upgrade when you see everything else they are offering: many more templates in the platinum version, an email service, webinar service, membership hosting, shopping cart. etc. As a disclosure I am a platinum member and I will get a commission when you buy from my links.