How to outsource for your digital business
How to Outsource for your digital business
Anything you need in your digital marketing business can be outsourced. You have two limited resources when building your online business: your money and your time. If it takes you months to learn a task or you need to buy expensive software, outsourcing it makes plenty of sense.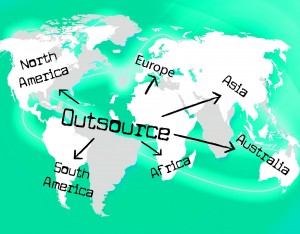 There are many outsourcing services available to consider:
You can hire someone to set it up and manage it for you, consider searching for a qualified candidate using:

www.elance.com
www.guru.com
www.rent-a-coder.com
Your local college although that can be time-consuming and give you unreliable results.
Your favorite search engine by typing "web design" or "web maintenance" which will usually lead you to costly agencies which we do not recommend.
My personal preference is www.fiverr.com since they offer you the protection of not paying the money until youa re satisfied with the work done.  It happens more frequently than you would think. When you post your website project with Fiverr, be as specific as possible in your work description so that the work that is returned to you is exactly what you were looking for. A little trick is to ask a specific question in your post. You can easily weed out the providers who sent you a copy-paste answer that does not answer your specific need. These answers are easy to spot and sound like "we are eager to start your project, etc"
Before hiring a person to outsource your project, it is wise to chitchat with the person. Often, you might be surprised to realize that their English is not as good as their profile says. Furthermore, they might not even be qualified to do the job they responded to. You will save yourself a lot of headaches if you do those two small steps.
Once you have found a great person to outsource your work to, make sure you keep their coordinates at hand. Resist the temptation to do business outside the platform like Fiverr as too often people lost their money and were unable to contact the person who they hired.
Before outsourcing, you must know a little of what the job consists of. Hence, you need to write articles to know how long it takes to write a good article and what it would be worth to you. You do not need to learn HTML before hiring a webmaster but you need to know what can be done as web design and what the reasonable price is to get a website built.
Finding a Reliable Webmaster can be harder than finding your soul mate (well….maybe I am exaggerating a little!).
Next lesson: Internet Marketing Videos.
You are a winner at The Big Internet Marketing Game!
Nathalie
P.S. There are ways to build successful websites without needing any webmasters but I am getting ahead of myself here.