How to get Groove Funnels for FREE?
Getting a free account at Groove Funnels is still possible
GrooveFunnels is a free funnel builder with templates that you can use to design your website or funnels by drag and dropping only. You do not need any coding experience.
Right now, you can still get a free account and build three different websites or funnels for free. You could also use the pages that you build for free to link to your existing website to get some link power.
GrooveFunnels is newbie friendly and requires no coding. The more you will play with the software the better you will get at designing your funnels. You do not have to worry about getting hosting as GrooveFunnels as cloud hosted.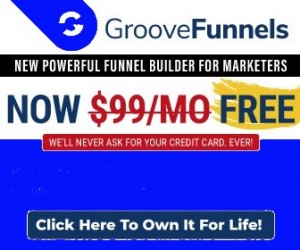 To open your free account, just go to GrooveFunnels  and follow the simple steps. You will not be asked for any credit card or any form of payment so do not worry about falling into a forced continuity trap. You will also automatically get a free shopping cart, and other free perks.
If you are wondering why they are offering free accounts to GrooveFunnels, it is because their business model is a freemium one. This means that part of their service is offered for free but they have a fuller paid version. In the case of GrooveFunnels, you get to see the templates that are only accessible to paying members which can be a selling factor.
Furthermore, Groove has much more to offer to paying members like an email service, a membership hosting platform, a webinar service, etc
At the time of writing, Groove is offering a one-time payment for lifetime access to all its platform nd future development which can save you thousands of dollars per year of you consider that you would have to pay separately for a funnel builder, email marketing service, webinar hosting, etc
Whatever you do, you should open your free account and start designing your free funnels at GrooveFunnels