How to create a successful funnel
Creating a successful funnel can be very lucrative
What is a sales funnel?
Funnels are the online equivalent of a sales process. They help companies move their leads through the sales cycle by providing a structure and framework for people to follow. This article covers the basics for understanding how to build funnels.
As an Internet marketer you'll quickly learn that building funnels is key to building your business. Having a funnel can help you make more money online easily without having to work so hard. Building funnels can be confusing if you don't know what you're doing. That's why this guide will show you exactly how to build your own funnels with confidence.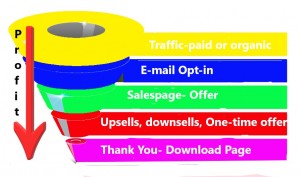 Creating lead generation funnels is easy. It is also a widely used marketing tactic utilized by many companies and bloggers in the digital marketing world. I'll show you what funnels are, how to create them, and how you can use them on your website.
If you are wondering what a sales funnel is, just do a quick search online and you'll find a number of definitions. But here's my version: A marketing funnel is a process where one piece of content or lead magnet feeds into another piece of content or lead magnet, which in turn continues the cycle until it builds to a sale. A funnel takes your audience from one form of awareness to another, that other being where they become customers as part of the process.
Sales Funnels are the backbone of any online business. As Dan Lok says in his recent post, "A sales funnel is simply a system that allows you to turn site visitors into customers."
How to build a funnel
A funnel is a series of webpages that guide your visitors through a sale process. It is not that complicated as you just have to build the opt-in page, the salespage (with or without a video), the one-time offer and then the thank you page. Some digital marketers have complicated the funnel process by creating upsell and downsells in a ridiculous amount. Keep it simple to begin with and always make sure that you are not losing your visitors by overcomplicating your funnels.
With your funnels, you can collect email addresses, connect with your audience and create a conversion path for customers. You'll be able to tell when someone has taken a conversion action and when someone has updated their contact information. Start collecting emails and build your list now!
Here is funnel marketing in 7 easy steps:
Understand how a sales funnel works- draft your funnel on a piece of paper
Craft a compelling offer
Create landing pages that convert
Set-up your check-out page with one -time offer                                                                                                                     Create a thank you/ download page                                                                                                                                            Link all the pages together                                                                                                                                                                    Drive traffic to your funnel either organically or paid
Building funnels is one of the best ways to make sales, provide high touch service and create a community all at the same time. In this article, I'm going to tell you how to build digital marketing funnels using social media.  If you're not familiar with building funnels, it's nothing more than creating a clear path from identifying a problem to successfully solving that problem, followed up by upselling or selling an additional product or service.