How to create a funnel in less than two hours
How to create a funnel or website fast for Newbies
Creating a funnel can be easy if you have the right tools and an easy step-by-step mini-course which is what we are offering here:
https://b.groovepages.com/funnelcreation/
Or click on the image below to get instant FREE access to your step-by-step funnel or website builder course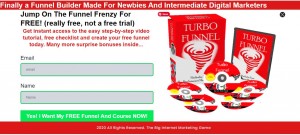 It used to be that you needed to hire a webmaster, basically created all the written content, and then pay hundreds if not thousands of dollars to get your website up. Sometimes, the person you hired left with your money and did not provide an opt-in form or a website.
There are many advantages to learning yourself how to create your own funnel or website without having to learn to code of any kind.
You will save so much money
You will have your website or funnel up and running faster
You will know how to modify the text, images, or anything in the website or funnel that you built
You will build your website exactly how you want it instead of relying on the creative inspiration of the person you hired
If you get good at it, you can even create your own agency and get paid good money to create other digital marketers' websites or funnel