E-commerce
Electronic Commerce to sell products online 

The E-Commerce industry has been booming but there is still plenty of room for you to jump in!
We have discussed selling digital products online on previous squares so this page will be focused on how you can make money selling physical products online.
The beauty of having an e-commerce is that you can sell worldwide. You do need to do all your due diligence as shipping costs can be a huge factor that could tank your e-commerce.
There are many ways to sell physical products online and with the 2020-2021 pandemic, the e-commerce industry literally exploded.
The booming trend of buying products online is here to stay as many brick and mortar businesses either closed or transferred their business online.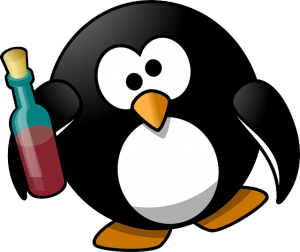 If you already have a product to sell and want to jump in, you can always set it up for sell very fast with a free account at GrooveSell.
How to set-up your e-commerce on your website using Woocommerce in 16 simple steps
If you want to add your e-commerce store to your existing WordPress website, you can install the plugin called Woocommerce which is free.
You can then choose the theme called Storefront, the free and official Woocommerce theme. 
Once you have downloaded the Woocommerce plugin, you can access the Woocommerce Wizard through your WordPress dashboard.
This theme and Woocommerce can be designed using Elementor.
You then need to link your Woocommerce to your payment gateway such as Paypal or Stripe.
You can now upload your products pictures, set their prices and shipping fess and start selling online.
Woocommerce  will guide you to set-up the check-out and thank you pages.
To maximize your profits setting-up such features as "people also bought" or offering upsells will increase your revenues from your customers already interested in your products.     
You should test your e-commerce and retest it and then ask your friends to test it!
Add new products to your e-commerce as you find valuable products to sell.
Resist giving-in the next fad and selling products you do not believe in or know that are of low quality. 
On the other hand, there is nothing wrong with benefiting from a popular trend like selling hand sanitizers or masks when they got in very high demand. 
 Never sell a product that you know is of poor quality, illegal or infringing copyrights. They are not worth the trouble!
Drive massive traffic to your e-commerce by either slower organic traffic or faster paid traffic. Paid traffic is actually a better and faster way to test if a product is worth your selling efforts.       
Evaluate regularly the cost of a sale and if a product is worth selling. Do more of what works and stop what doesn't.   
With all the metrics in hand, you need to assess every month if e-commerce is a sustainable business model for you.                                                                                                   
You can also use Divi and their Shopmodule plugin that integrates with Woocommerce to help you display products anywhere on your Divi website.
What is dropshipping?
If you want to start a dropshipping e-commerce, basically you get in front of customers with a product, they buy from you and you send the order directly to a wholeseller who ships the product directly to the customer.
In short, you are taking orders and a commission and the wholeseller fulfills the orders directly to the customer.
Here is what dropshipping looks like: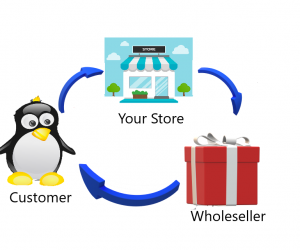 The truth about dropshipping and e-commerce
Making money online by selling physical products is not as easy as all those people claiming to make millions in dropshipping make it sound. First, most probably, they are lying about their income. Second, they are often bragging about their sales amount which is a galaxy away from their net income when you deduct the money they spend creating or buying the product, their marketing budget spent, their shipping costs, their refund costs and the list goes on and on.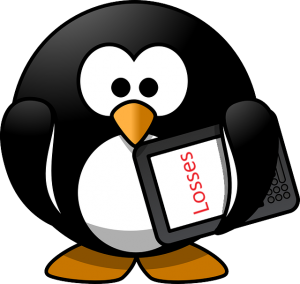 It is said that 95 to 99% of dropshipping businesses fail. The reasons most dropshipping businesses fail are:
It is hard to find a good product to dropship.
Customers have grown wiser and know that they can get the same products from giant e-commerce like Amazon and have a solid guarantee, faster delivery and see tons of reviews before making their buying decisions.
If dropshipping was so lucrative why would the few claiming to make huge money with dropshipping are pushing so hard to sell you a course on how to make money dropshipping?
You constantly have to find new products to dropship as products go out of popularity fast.
Dropshipping is hard work and does not consists of  just setting it up and collecting the rewards.
Since you are dropshipping from oversea, usually China, the quality of the product is unreliable and your refund rates can be very high.
If you. heaven forbids, decide to stack inventory yourself, you will incur big expenses and the stress of having to move your inventory.
Most people know that they can buy directly from wholesellers like Aliexpress and can bypass your store and save a lot of money by doing so.       
There are so many people trying to make money with dropshipping that you will face huge competition.
 Even the digital marketers who had some success in dropshipping are moving away from dropshipping and selling courses…on how to make money dropshipping!   
It takes a lot of know-how to set-up a beautiful store and anyone selling you a click of a button store is selling it to thousands of other people.                                                                            
Here is an honest video about dropshipping put online by a man who does dropshipping… https://www.youtube.com/watch?v=UbX2QSODtgQ
The fact that most online marketers claiming they are making a fortune with their e-commerce are trying desperately to sell their course is a red flag. In their webinars they plead to sell their courses and that shows that their income from their e-commerce businesses are not as good as they claim.
Shopify is a very popular software for e-commerce but you have to pay a monthly fee. At the time of writing they offer a 14 days trial but 14 days is not enough to really test your e-commerce.
Selling on E-BAY
 Ebay and Amazon are the two largest online stores worldwide  Do you know the number one difference between people doing a search on the search engines and people doing a search on Ebay or Amazon?
People doing a search on Ebay or Amazon are buyers, which means they already have their credit cards in their hands and are shopping to buy a precise thing. It is a definite advantage to reach people who are on Ebay as they are not browsers but buyers. They know exactly what they are looking for.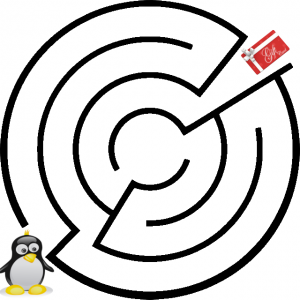 Now for the bad news, most people shopping on Ebay are looking for bargains as they know that there are countless sellers. You can still make good money selling your products on Ebay.
Ebay in its beginning was more an opportunity to get rid of stuff you were not able to sell at your garage sale. It grew into a massive money making opportunity rapidly as marketers saw the possibilities.
If you have vintage items the profit margins can be great. We have successfully sold items on Ebay for hundreds of dollars like discontinued perfume or unique oil paintings. The great thing is that we had bought those items at local auctions for 3$ a piece!
Ebay does take a cut of your sale and you have to provide the shipping. Ebay has an easy to follow shipping label system to print your shipping labels and just drop your package at your local postal service.
If you sell on Ebay, running auctions can be a great way to create a buzz as people love to win auctions.
You have to be careful if you start your auction at a penny or a dollar as if you forget to set-up a minimum sale price, people can snatch-up your item for a penny! Many unexperienced Ebayers have learned that lesson the hard way!
This does not mean that you should not look into Ebay as many successful internet marketers are using Ebay to either sell their products or to generate leads.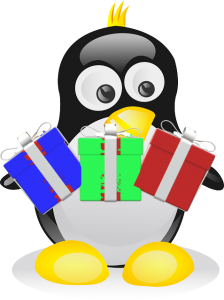 The basics rules of selling physical products locally:
If you have big items that would cost too much to send or are too fragile to ship, selling locally like through Facebook Marketplace or Craig's list or other Facebook "garage sale" groups could be a good option. The odds are you will get more money than if you did a garage sale where people are expecting to pay peanuts for your items.
Here are a few rules for successfully selling items in your local area:
Take great pictures and write a great description of your item.
Mention the defaults of your item so you don't waste your time or your buyers' time.
Determine the bottom price that you would be happy to sell for as people tend to bargain.
Always meet in a public place during daytime. No item is wroth putting yourself in danger.
Only take cash payments as many people are comfortable writing bad checks.
When done right, selling locally can give a second life to your articles and make you good money in the process.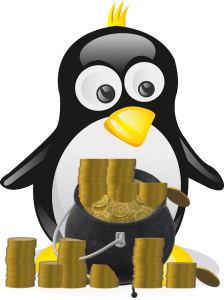 Selling your own products on your e-commerce store:
Selling your own products on your e-commerce store can be very lucrative. You can decide to brand products that already are available and make them unique. If you sell products that you invented, make sure that you have all the right legal protections like patents and copyrights to protect your hard work which is way beyond the scope of this site.
Furthermore, realize that selling your physical products is a huge business investment requiring time and money. This lucrative business avenue is not for everyone as there are huge roadblocks along the way and require skills like accounting, managing, even hiring staff, etc. 
One online marketer found out the hard way that he did not have complete control over his wedding favor business when the container he ordered from China arrived one month later than promised making him having to refund many angry customers.
Although he was relieved to see the container arrive, he was petrified to realize that all the candles in the container had melted and were useless!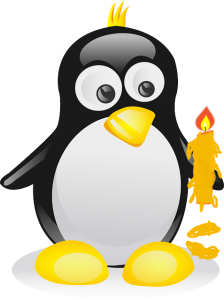 Selling your physical products with Amazon
Selling your products using FBA-fulfillment by Amazon is another way to go. In short, for a fee, Amazon stores your products in their warehouses and takes care of the shipping and handling and even refunds for you when someone orders your product. You can read the details here: https://sell.amazon.com/fulfillment-by-amazon.html
Many online marketers who are successful selling their physical products admit having moved away from FBA and are using other fulfillment services though.
The other way you can partner your e-commerce with Amazon is by signing-up with Amazon's affiliate central. You cna check-out Amzon's affiliate program here: https://affiliate-program.amazon.com/. By sending your visitor's through your Amazon's affiliate link you get a commission. The commission by Amazon is not huge and Amazon has changed the rules in the past without a warning with devastating effects to their affiliates.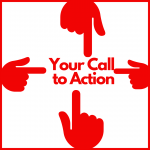 HERE IS YOUR CALL TO ACTION
1) Decide if selling physical products either directly or via dropshipping is a good fit for your online business. If so, create your online store with GrooveSell for free or use Divi to keep your store on your WordPress site. 
2) Go to Aliexpress.com and look around at the products they have to offer and what  their prices are. Is there any product that would be a good fit for your online business model? If you find items that interest you, purchase them to check out the total costs, shipping delays, quality of the product once it arrives, etc
3) If you decide that you want to sell physical products in your e-commerce store, check-out the shipping and packaging options and crunch the numbers to make sure that this business model is worth your energy. Consider designing your e-commerce store with Divi.
4) Consider being an affiliate for other online stores, the biggest one being Amazon.
5) Why not take the week-end to go around your house and see if you have items that you are not using but that could be worth putting on sale on a local online selling platform like Craig's List or Facebook Marketplace?
6) Focus on your online business and decide if you are in the information business, physical products selling business or a mix of both.
See you on the next square!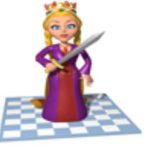 Nathalie